Davos '07 - Ski touring, Baslersch Chopf (24-Feb-06)
Saturday night, 24th was due to be the end of the stable weather, and with the avalanche risk down to 1/2, we decided to get in a tour before it started snowing. Baslersch Chopf (2629m) is an easy route from the Flüelapass road near Davos - simply drive past the Pischa area to the barrier where the road is closed for the winter.
Easy, but you still have to get the route finding right - after heading up the road for a bit, you turn off at the big hut, but the next part is less obvious - a number of tracks tempted us to head straight / up-hill too far, when the route actually turns left, and heads up a small gulley almost immediately (the correct route is shown in yellow in this
Google Earth File
and the following GE screenshot: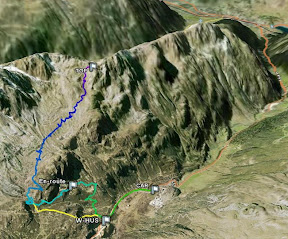 In the end it was just a waste of effort, no real harm done, although the conditions underfoot - a mix of re-frozen snow and wind-pack weren't ideal. We did get good views back down the valley, though: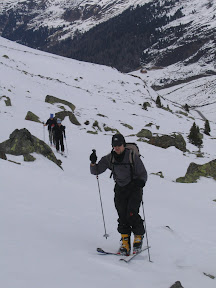 The section where we re-joined the correct route, a short steep section proved a little tricky - we ended up on the left-hand side of the gulley where the snow was rock-hard, which didn't suit everyone. The problem was exacerbated by the gear that Antoinette had rented from Full Moon in Davos - they'd told me they had ski touring gear, but what they had was really free-rando gear - the boots were too stiff, and the skis too shaped to work well on the ice. Furthermore, with the Diamir freeride binding fitted on them, there was no return spring, and although I had crampons for that binding with me, the skis were just a touch too wide for them.
However, we all managed, and after that, it was a just long flat schlep, followed by another short steep section (soft snow this time) to reach the col below the Baslersch Chopf (2594m). The weather had been steadily worsening since we started, and at this point the predicted snow arrived, so after the obligatory 'summit' photo, we headed back down: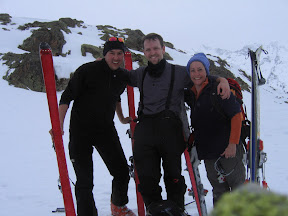 The descent was an odd mix of heavy sticky snow, steep hard-pack sections (yeah!), and the (very) occasional patch of powder: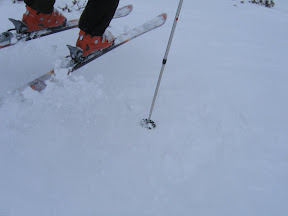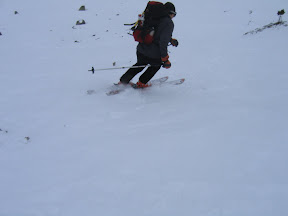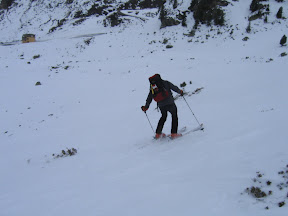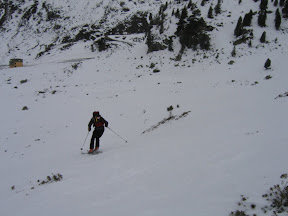 A good time was had by all, and we stopped for a late lunch in the Gasthaus Alpenrose, just before the Pischa car park. They have a slightly creepy obsession with stuffed animals, but the food (especially the Schnitzel) was great, and they mix their own
Apfelschorle
, instead of just flogging bottles of
Shorley
. Works for me: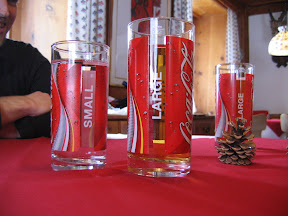 Elevation and distance profiles for the ascent, courtesy of
www.gpsvisualizer.com
:
For a full description of the route, see route 530a on the 1:50,000 Swiss ski-touring maps, or the
SAC guidebook
.